"I TRULY BELIEVE IN GOD ..., NOT ONE THAT HAS HORNS AND TAIL. AND IT MAKES EVERY DAY OF MY LIFE DELIGHTFUL AND HAPPY," ~Nadia RUSS, July 4, 2015. NYC
-------------------------------
"When I die, I do not want funeral, I want to be cremated. I want also all my artworks that owned by me at that moment (those that have no bill of sale or deed of gift) would be also burned." ~ Nadia RUSS August, 2015
Reality check for confused: "Teaching doodling is like teaching stupidity, where "teachers" and students deserve each other. One does not have to learn how to draw badly (or how to doodle). One will draw bad ANY WAY, if he/she has no talent or capability for work. For better results, skip bad teaching resources/ books that louded the web stores, and get the good ones (for sure they are more expensive). Then, who knows, may be you will be a good artist or at least will develop a good taste! Protect yourself from viewing bad, not professional art or doodling, look only at museum quality art. It will help you to creat better artworks, because it will help you to refine your taste and vision. Doodling is low taste, respect yourself, you live in 21st century, when access to the best is so easy and often free. NeoPopRealism is not the art style of the past century, as some unprofessional people want to present it to masses to give more space to the "art of the new millennium" - doodlng (sounds retard, but it is true). NeoPopRealism is for everyone, no matter who you are and how old you are. It is the art of the new millennium and it is equal to Apple in technology. Everyone who learn how to draw/paint NeoPopRealism will increase his/her intellectual abilities, taste, artistic abilities and senses. Only you need is to get a NeoPopRealist teaching resources and deepen in it and in the fabulous and original world of this fascinating style that has no equals in the real world." ~ Nadia RUSS
CELEBRATING 26th ANNIVERSARY of NeoPopRealism, created by MADIA RUSS in 1989.
Support NeoPopRealism. Donate today!
====================================================================
With any questions regarding purchasing the artwork - original or print, or Nadia Russ' books by bulk, contact:
nadiaruss@yahoo.com
(write in Subject line "Important")
****
ART STYLE BY INTELLECTUAL FOR INTELLECTUAL ELITE
Because in 21st Century, We Cannot Afford Go Stupid Monkeys With Doodling
NeoPopRealism is style of visual arts, created by Nadia Russ in 1989, and manifested online+ in 2003, after she on January 4, 2003 created a term NeoPopRealism. NeoPopRealism Art combines the brightness and simplicity with deepness of psychology, it has high energy colors and graphic nature. NeoPopRealism is a separate art style and cannot be labeled under 'Pop Art' because NeoPopRealism has sophisticated and philosophical nature, while the Pop Art is superficial. Only the drawings for children are simple enough and less sophisticated to help the little students understand the NeoPopRealist art drawing concept and technique. Nadia Russ suggests to librarians and other bibliographers to add a new category - 'NeoPopRealism' for the NeoPopRealism instructional books and artwork.
NeoPopRealism 10 canons for happier life Nadia Russ created in 2004.
You are probably would like to know more about a SECRET of NEOPOPREALISM style and why almost everyone who tries to work in this manner ends up with doodling or simple decoration of the realistic work with patterns, instead of creating a NeoPopRealist Art as Nadia Russ does. First of all, DO NOT COPY anything and DO NOT CONTROL YOUR HAND and BRAIN. Because your subconscious is more clever and talented than your consciousness. But it is not easy to open your extraordinary abilities' treasure box. You need a special key that now is located in the Nadia Russ' instructional books. You always can try to connect your little brain to the MIND of Universe with the help of self-suggestion and training.
Many realists-artists after while begin to hate their realist work and creative process because they feel like they are trapped in a dark box without air and without abiliy to move on from the boring copying the realistic life and to create something unique and imaginative. This is what happened to Nadia Russ too, before 1989. However, she was able to break through, and even more, to create a new style of visual arts NEOPOPREALISM, based on her foundings how to break through those mental restrictions. In 1989, she learned how to open her mind to the Universe, to move on to the higher level psychologically, where she do not have to rely on the brain's limited abilities. She intentionally cuts her brain's controlling function off to be free of memory and unintentionally installed in us restrictions, habits, that put limitations on our creativity. This is the secret.
However, not many able to do that. And if you won't be able to do this too when creating NeoPopRealist art work - it is not easy to put yourself in subconscious state of mind - then you will end up with simple dividing space with lines into sections and then, filling these sections with different repetitive patterns. Too bad, because you end up with doodling that has nothing in common with ART and has only some little flavor of NeoPopRealism art, but is not the actual NeoPopRealist artwork. It happens because your conscious abilities are full of limitations and you normally use only up to 16% of your brain's gray matter's potentials. And everyone will see it through your work. How shame!
Young adults and the schools' students must learn how to create NeoPopRealist Art (not silly doodling, "art" for dummies) and to succeed, because their brains are still in the process of development and are more open for experiments and new things. The Nadia Russ' instructional books are the source that can teach it and give an inspiration to break through.
"Taste is the best judge. It is rare. Art only addresses itself to an excessively small number of individuals". ~Paul Cezanne
NeoPopRealism 10 Canons for Happier Life
1. Be beautiful; 2. Be creative and productive; never stop studying and learning; 3. Be peace-loving, positive-minded; 4. Do not acceptcommunist philosophy; 5. Be free-minded, do the best you can to move the world to peace and harmony; 6. Be family oriented, self-disciplined; 7. Be free spirited. Follow your dreams, if they are not destructive, but constructive; 8. Believe in god. God is one, it is harmony and striving for perfection; 9. Be supportive to those who need you, be generous; 10. Create your life as a great adventurous story.
About what the NeoPopRealism philosophy for happier life stands for
To bring the peace to the earth, it is time to unite all the peace-loving people, to stop the use and production of the heavy military equipment and weapons of mass destruction, such as war ships, war planes, artillery, nuclear bombs, etc., in every part of the world, without any exception, once and forever. It has to be an international law, according to which any person of any country, in any government, responsible for use (or attempt to use) the heavy military equipment in any part of the world to kill people, would be imprisoned for the rest of life without possibility of amnesty, as the mass murderer. All sales of the heavy military equipment worldwide should be stopped, as well as production of new military heavy equipment, as part of this future law.
To keep this planet eco-friendly and beautiful, and people happy, we have to say 'good bye' to some irresponsible boys' bloody toys.
08.08.2014
Fort Lauderdale 100: A Must-Have Collector's Edition

Author: Nadia Russ




List Price: $67.95

8" x 10" (20.32 x 25.4 cm)

138 pages

NeoPopRealism PRESS

ISBN-13: 978-0615470085

ISBN-10: 0615470084

BISAC: Art / American / General

"Fort Lauderdale 100: A Must-Have Collector's Edition" by internationally known NeoPopRealist artist Nadia RUSS, with foreword by Mayor of the City of Fort Lauderdale John P. "Jack" SEILER, is dedicated to the City of Fort Lauderdale. In 2011, Fort Lauderdale -- the Yachting Capital of the World and 'Venice of America' -- has celebrated its 100-year anniversary. The book's pages include one hundred color photographs by Nadia RUSS of the beautiful and breathtaking, unique and amazing, greatly unbelievable, amusing, glamorous, sunny, sandy, fascinating and unforgettable City of Fort Lauderdale. Also, this account contains information on the sights. Published in the United States in English with the partial translation in Russian. Buy book at Amazon, click

HERE

.

New York City: After Sandy & Before the End of the World

Author: NeoPopRealism Press, Photographs by Nadia Russ




List Price: $26.95 (Black & White Photographs)

List Price: $45.95 (Color Photographs)

8" x 10" (20.32 x 25.4 cm)

112 pages

NeoPopRealism PRESS

ISBN-13: 978-0615734637 (Black & White)

ISBN-13: 978-0615733937 (Color)

BISAC: Photography / Individual Photographer

A book "New York City: After Sandy & Before the End of the World" offers a stunning collection of 110 Nadia Russ' photographs of the New York City's Manhattan, made a few days after hurricane Sandy and ... before the end of the world. It includes text describing images. Buy black/white edition at Amazon, click HERE. Buy color edition at Amazon, click HERE.
**** ________________________________________________________________________________________________________________________
In 1989, Nadia Russ (aka Nadejda Maloletneva) invented a new art style. She drew with ink pen a line that turned into the different shapes, figures, faces. Some sections, that appeared, she filled with different repetitive patterns. Nadia never uses eraser. If she makes a "mistake", it disappears because the following patterns balance the whole composition. Like all abstract art, this drawing is meditative. Later, she was using the same concept when she created her oil and acrylic canvases. This style called NeoPopRealism. NeoPopRealism is a term that she created January 4, 2003. The artworks of Nadia Russ are in the different collections, including museums' worldwide, private and corporate. To draw the pure NeoPopRealism artworks one needs to involve more than 16% of the regularly used gray matter of brain. Other way, you will land into a dull drawing process with the poor result (you can see it all over on the web, but better don't). How to open your mind and start using more that 16% of your gray matter without any dope, read "Inspirational Chapter" in any of the NeoPopRealism instructional book and view only the good art of established artists. Not each one who draw the lines and patterns can be the artist, but if you are able to involve more than 16% of your gray matter and and as result to create something unique, then maybe you will be considered as ONE.
| | | | |
| --- | --- | --- | --- |
| | | | |
| | Nadia Russ, Rolls Royce d'Vinci (2006), ink, mix media on paper, 11"x17" | | |
| | | | |
NADIA RUSS' ARTWORK is available for purchase from websites:
NeoPopRealism Press:
HERE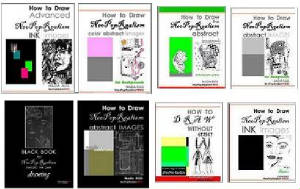 NEW! ART BOOKs: Recently published: A searies (8) of teaching/ learning books on How To draw NeoPopRealism ink images teach adults, teens and children the basics and advanced NeoPopRealism ink drawing:
See full list of books with descriptions in
www.neopoprealism.org
<-- They are available at 30% off to educators and libraries.
NeoPopRealism PRESS (www.neopoprealism.org) is academic publisher. It provides academics and individuals with unparalleled up-to-date information and highly specialist art skills and knowledge related to NeoPopRealism. The NeoPopRealism Press publishes and distributes instructional books on NeoPopRealism authored by the NeoPopRealism creator Nadia RUSS (www.nadiaruss.com). NeoPopRealism Press provides individuals and organisations with the knowledge they need to carry out their work.
________________________________________________________________________________________________________________________
________________________________________________________________________________________________________________________
*Nadia Russ' artwork "Rolls Royce D'Vinci" on the cover of
The Flaneur
, independent art journal
(2010, UK)
***
~Find more about Nadia Russ and NeoPopRealism in art books, published by NeoPopRealism Press at
www.neopoprealism.org
~Photocopies of articles form different magazines & newspapers from all over the globe about Nadia Russ' art (in English, Russian &
Ukrainian) can be found at
Flickr
~Scroll down to see Nadia Russ' exhibition featuring on Bahamas TV, Channel 13, more.
_____________________________

NADIA RUSS' works can be found in the museums' permanent art collections all over the world.

________________________

NADIA RUSS'S BIO


SOLO EXHIBITIONS:

*Letizia gallery, NY, NY, USA - 1992;
*Souz Tvortchestvo Gallery, Moscow, Russia -1993;
*Tri Doma Gallery, Moscow, Russia - 1993;
*Auto Art Gallery, Moscow, Russia
*Bulgarian Culture Center, Moscow, Russia -1994;
*Freeport Art Center, Bahamas-1997;
*Port Lucaya Yacht Club, Freeport, Bahamas-1997;
*Prestige Auto, Freeport, Bahamas 1998;
*Art Gallery Club 13 at Xanadu Hotel, Freeport, Bahamas-1999-2000;
*Online Gallery NowCulture.com, NYC, USA-2000;
*Club Moscow, New York, NY, USA-2000;
*Ft. Lauderdale Antique Car Museum, Florida, USA-2001;
*96 Str Branch New York Public Library, NYC, USA (2004 - Nadia Russ: NeoPopRealism. Original Canvases)-2004;
*96 Str Branch NY Public Library, NYC, USA (2006 - Nadia Russ: NeoPopRealism. Works On Paper. Prints)-2006;
*Sumy Regional Library of Science, Ukraine-2008,

etc

GROUP EXHIBITIONS:

*Manege, Moscow, Russia-1990;
*M. Gruzinskaya, Moscow, Russia -1991;
*NY Film Video Festival, New York, USA-2001;
*Galeria d'Art Zero, Barselona, Spain-2001;
*Ninth Life Fine Art Gallery, St. Thomas, USVI-2002;
*BBBS Charity Auction, Bridgewater, NYC, NY, USA-2001;
*Carrazza, Radisson Bahia Mar Hotel, Ft. Lauderdale, FL, USA-2002;
*The Davis Art Gallery, 1523 Las Olas Blvd, Ft. Lauderdale, FL, USA-2002;
*ArtServe, "Best of City Link", Exhibit & Festival, Ft. Lauderdale, FL, USA-2002;
*Warehouse 721, Ft. Lauderdale, FL, USA-2002;
*Soho Gallery, A1A, Beach Place, Ft. Lauderdale, USA2003;
*Uma Gallery (Limited edition glass plates), NYC, NY, USA-2007;

*Manhattan Motorcars (Luxury Cars series), NYC, NY, USA-2006-2010; etc.

Надя Русс, Надежда МАЛОЛЕТНЕВа

Check selected magazines & newspapers..

Click on images to enlarge)

Nadia Russ' Art

*

Nadia RUSS is the founder of NeoPopRealism Journal, Wonderpedia, NeoPopRealism Starz International Art Competitions (2008-2010) and NEW MILLENNIUM ART (2010); participates as a Juror (individually or in a panel) in national & international art competitions.

________________________________________________

Art Books that below by Nadia RUSS are available at Google books:

NeoPopRealism Starz: 21st Century ART, 1st Vol., 2009

Nadia RUSS (Author)

ISBN: 9781441570857

____________________________________

NeoPopRealism Starz: 21st Century ART, Erotica As A High Artistic Aspiration (2010)

Nadia RUSS (Author)

ISBN: 9781450059955

___________________________________

NEW MILLENNIUM ART: NeoPopRealism Starz, A Must-Have Book For Artists & Art Lovers ( 2011)

NADIA RUSS (Author)

ISBN: 9781456831509

_______________________________________________

_______________________________________________
Traveling to the past:
Russian Television, Moscow, 1995. TV program "THIRD EYE". TV studio decorated with Nadia RUSS' NeoPopRealist work.
TELEVISION FEATURING:

*Nadia Russ' Art exhibit in Souz Tvortchestvo Gallery, 1994, Moscow, Russia - 5 TV featuring & interviews (5 different chanels);

*Art Studio in Moscow, 1995 - TV featuring of Nadia Russ' Art;

*Program "Law & Order" with Anatoli Bezuglov - Decorating TV studio with Nadia Russ Art, 1994, Moscow, Russia;

*Program "Third Eye" - Studio Decoration, 1994, Moscow, Russia;

*5 minutes live on Moscow TV - featuring book of humorous stories "I murdered a Man" (written & illustrated by Nadia Russ), 1994, Russia;

*Freeport, Bahamas, TV featuring - exhibit in Freeport Art Center, 1997; etc.

DECA-DaNCE: & how swindlers, coxcombs, & sexists failed America and how to break through & be happy

List Price: $25.95

6" x 9" (15.24 x 22.86 cm)

226 pages

Publisher:

NeoPopRealism PRESS

ISBN-13: 978-0615655680

This 226 pages nonfiction tells a story about the world we live in. It explains why decadence in our society has happened and how it is related to our values. Transparency is a powerful tool against those who are putting profit before integrity. This book explores many aspects of our lives, including the corruption. It offers the solutions to problems and teaches how to improve your life and be happy. This account explores through the prism of relationships between people the variety of subjects - communism and capitalism, crime and corruption, sexism and love, elections 2012 and the government, much more. It is illustrated with photographs. Buy book

HERE

.
Работы Нади Русс (Надежды Mалолетневой) находятся в собраниях музеев и в других государствнных и частных собраниях по всему миру.
Art related websites:
~A Singular Creation Art Community - Art Contests and Opportunities">
~sGALLERY - Photorealistic Oil Paintings Gallery & Art News ~ ART SEARCH Directory
~http://www.Art.net

1. MOYA, Museum of Young Art, Vienna, Austria - series of 2 'Luxury cars',; 'Summer', 2003, acrylic/canvas; 'My Pink City', 2003, acrylic/canvas; 2. Kinsey Institute, Indiana University art collection - 2 glass plates with image "Miss & Her Admirer"; CD-R - film "NeoPopRealism For Sex Addicts", 5 min 16 sec.; canvases (series of 2) "Legs & Fine Man", 2001; 3. WEAM, World Erotic Art Museum in Miami Beach - lamination on glass (3,5 deameter) with image "Miss & Her Admirer", 1/8; 4. Ukrainian Museum in New York - "Queen of Magic", 24"x36, canvas/acrylic on plywood; "Little Orange Girl In A Pink City", acrylic/canvas; "Aces & Faces", acrylic/canvas; 5. Hotel Lucayan, Freeport, Bahamas - several color prints; 6. New York Public Library, NY, USA - several work on paper (prints); 7. D. Burliuk Foundation, Ukraine - over 60 art works; 8. Simferopol Art Museum, Ukraine - two works on canvas "Conductor" & "Blue Moon", both 24"x36", painted in 1996 in the Bahamas; 9. Art Museum of Lebedyn, Ukraine - two work on canvas "House" & "Dancing Traffic Lights", both 23"x28" made in 1996 in the Bahamas; 10. Sumy Art Museum, Ukraine - 20 ink/paper works 8"x10", "Faces"; 11. The Schacknow Museum of Fine Arts, Florida, USA - 5 art works on paper/ink "Faces"; 12. Historical Museum of Ft. Lauderdale, Florida, USA - art works on paper "Faces", including antique car "Ford", ink/paper 22"x26"; 13. Museum of Local Lore of Konotop, Ukraine - work on canvas "Lover" and several art works on paper;
etc.